Why can't you call me?
If i forget to call it automatically means "没有心" wtf what about the 9 out of fucking 10 times that i DO call you ? Somehow my 心 just disappears the moment i don't?
Why must we call everyday to tell you that there IS food? isn't that spastic? And a waste of money?
So instead of calling to tell you there's food, just ASSUME that there is (because THERE ALWAYS IS) and when there isn't we'll call you!

EASY.

PEASY.

LEMON.

SQUEEZY.
Why must you make it so difficult and troublesome and spastic?
I wish you would just: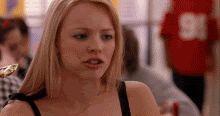 .
On a completely unrelated note - Regina George is flawless. Mean girls FTW.