Bangles, Hollywoodtape, bottle of pee ( lol just joking, it's nail polish remover), my mom's incredibly awesome painkillers. i took these for my cramps they stopped like within a minute!
36 tapes for 10.50 wah lao friggin chor. Took 2 months to arrive some more @#(*!&@#(@ !
Recent buys:
2 cotton on dresses
1 la senza dress
1 f21 h81 cotton on hoodie dress ( omg i love this to freaking death)
1 light blue hoodie
1 pair of canvas shoes
That is all i think. I've been good leh, this is all i bought for 3 weeks! zzzzzz.
Yvonne's getting me those awesome lace leggings from Urban Outfitters (UO)!! YAY!!
All i want for xmas is funky headphones, a coatrack as similar to the yellow UO one as possible and these friggin cute acrylic diamond necklaces from theponyparty.lj!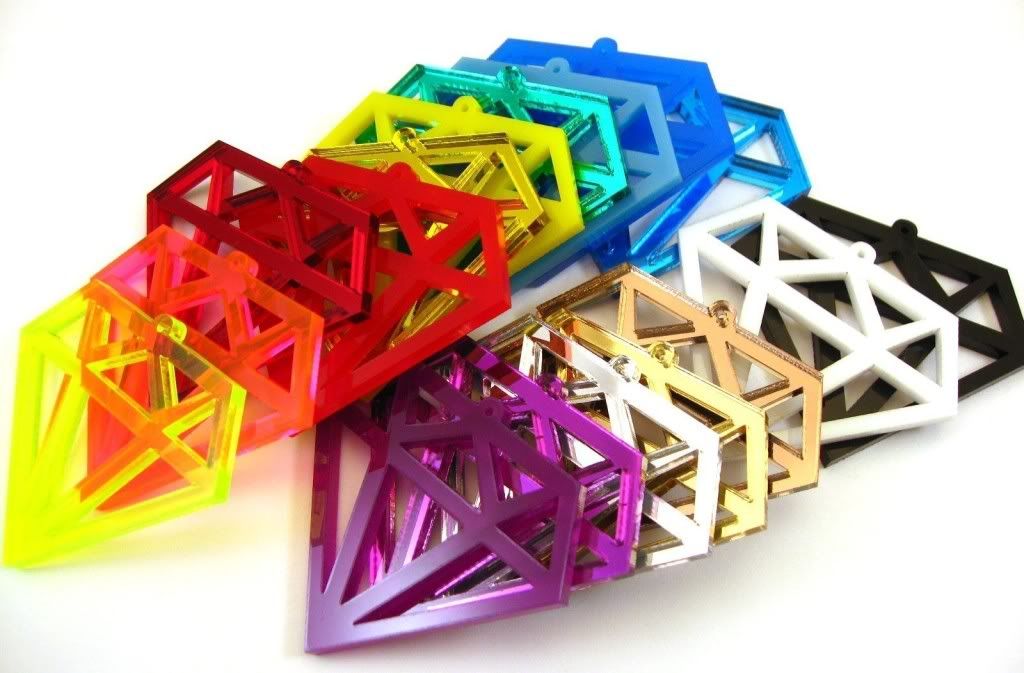 She says they'll either be 2" or 3" big, but i was hoping for 3.5"-4" cuz i love big funky statement-making accessories omg so cute so cute. I will probably get this in black, gold and see-through red. Eh why no florescent green ah?
They aren't out yet, but they'll be available for pre-order soon omg omg omg cannot wait!
Okay this is a completely materialistic post.
Today i koped as many hangers as i could and hung up all my dresses. I have .. 12 dresses only lor wah lao! White, blue , black , green and that's it. I think i need more colours lol.
Okay i need to shut up now that is all goodbye.